Healthwind is just as concerned with the details as with the big picture and that really makes a big difference.
Jennifer Queen, Academy Women's
A system you will look forward to using
We don't think that idea is so far-fetched..
Yes, building a great practice management system isn't easy.
It requires thoughtful design decisions at every level. We know because our passion is building a system you will enjoy using.
The result... Healthwind's innovative:
Patient information
Accounts receivable
Collections
Scheduling
Single and multi-clinics & locations
Billing
Electronic claims
Reporting
Integration
...and many other features put even more power at your fingertips!
Available
Interfaces
Electronic Medical Records:
Laboratories:
ePrescribe:
Appointment Reminders:
Other:
Note: if your vendor of choice is not listed, please contact us so we can review their interface specifications.

Insight - The Next Generation
You don't use outdated tools for patient care and you should expect your software to be ready to take you well into the future with the assurance of Healthwind® practice management software.
Healthwind is now installing Insight™ in clinics across America. Insight is the latest generation of Healthwind Practice Management System. This revolutionary new product is completely Microsoft Windows-based and builds on our 25+ years expertise delivering powerful tools targeted for clinical environments.
Harnessing the latest Microsoft technology, Insight's rich Windows client streamlines the way users access, analyze, and use patient data. Customers gain advantages in both productivity and usability with secure tools based on our solid patient-workflow knowledge. Managing schedules, contacts, and billing data are simpler to use, with the depth of features you have come to expect from Healthwind.
Imagine the Possibilities
Remember when claims submission involved reams of paper and seemed to take forever? When you felt the system moving slower than you were? The awkward interfaces... the waiting...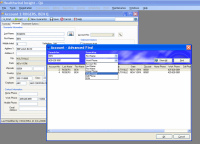 With Healthwind Insight™, those days are over.
If it seems as if some clinical software has been designed by "techies" who really don't understand how you work, we totally agree. That's why we do something radically different...
New to Healthwind?
During the mid-80s, Healthwind (formerly "Horizon") was a pioneer in computerizing regional medical offices. At that time we were often the first computer in the practice—and for many users, their workstation was a new experience.
Today, in the midst of radical transformations in health data management, patient care remains primarily a hands-on affair. However, cost-conscious clinical managers realize that health information technology (such as EDI) can—and will—increase productivity.

The reality is that these new systems and services can be complex—and often overwhelming. That's where Healthwind can help.
We parse through the tangled web of HIPAA regulations, providing you with security-enabled tools. Our electronic claims engine ensures your bills are submitted—fast. Healthwind's reporting features give you both the birds-eye and detailed analysis you need.
In short, we make it simpler to monitor the health of your practice, so you can focus on patient care.
Healthwind continues as a pioneer, and—because of our amazing customers —we're launching our 25th year of service to the healthcare community!
We Listen.
Our experienced team of support specialists and product engineers have a deep understanding of clinical workflow, government requirements, and great relationships with our customers.
Our track record:
Thousands of satisfied users.
Many practice sizes in specialties across the board.
The most friendly, informed support in the industry.
Microsoft™ Windows-based technology.
Integrated with several health information systems.
Contact us today and discover Healthwind.